Birthday Party Checklist: Fabulous Party Planning Guide
Planning a birthday party can be half stress, half fun. To lower the stress portion of party planning, I'm sharing a helpful birthday party checklist. This is exactly how I organize big birthday parties while maintaining my sanity. I hope you'll be delighted to find helpful tips within this birthday party checklist.
Birthday Party Countdown: 1 MONTH BEFORE PARTY
Set a budget
Select a date and time
Develop a guest list
Reserve a party venue
Choose a birthday party theme
Order birthday party invitations
Order thank you notes
Order party supplies and decorations
Reserve entertainment (photo booth, face painter, magician, clown, etc.)
Reserve party rental items: tables, chairs, and linens
Birthday Party Countdown: 3 WEEKS BEFORE PARTY
Mail birthday party invites
Plan a menu and price shop the items
Decide on birthday party games and crafts
Purchase all items needed for games and crafts
[bctt tweet="Countdown to a fabulous party! Get organized with this free birthday party checklist." via="no"]
Birthday Party Countdown: 2 WEEKS BEFORE PARTY
Purchase additional birthday party decorations
Make a decision about table centerpieces
Order the birthday cake
Order balloons
Confirm booking for entertainment (better safe than sorry!)
Confirm party rental items (especially important around holiday periods)
Make arrangements for extra help at the party
Make arrangements for music at the party – sound system, speakers, etc.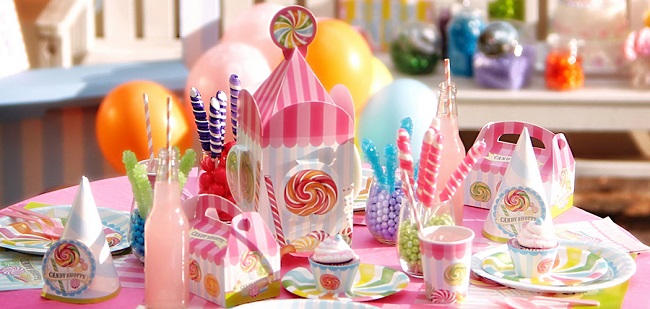 Disclosure: This page contains affiliate links for beautiful party supplies that can make your next event awesome. If you make a purchase using a link on this page, I may earn a small commission (your cost will not be affected). Thank you! I'm so grateful for your support of this site.
Birthday Party Countdown: 1 WEEK BEFORE PARTY
Purchase beverages & non-perishable food items
Create table centerpieces
Assemble party favors
Decide on a music playlist
Contact guests who did not RSVP
Borrow any items needed: cake stands, platters, chafing dishes, serving utensils
Create a detailed schematic of the party set-up: Location of food tables, cake tables, present table, dining tables, areas for activities and crafts, placement of balloons and decorations
Birthday Party Countdown: 2 DAYS BEFORE PARTY
Purchase all remaining food and beverage items
Charge batteries for camera and/or video camera
Confirm additional help
Decide which food items can be made ahead
Double check that you have all items: ice chests, beverage containers, propane for BBQ, etc.
Confirm order for balloons (better safe than sorry!)
Ask a reliable friend or relative to be in charge of taking specific photos during the party
Birthday Party Countdown: DAY OF THE PARTY
Finish food preparations
Meet the party rental company for table and chair delivery
Ice down drinks 3 hours before the party
Pick up the balloons
Pick up the birthday cake
Set up the music and put on some great tunes
Prep the food station and dessert table
Decorate the party area and set up the table centerpieces
Set up the activity stations and craft tables
Display the party favors in a stylish way (or store them where they won't be forgotten)
Stop for 10 minutes and take beautiful photos of the dessert table and party decor
Take 20 minutes to freshen up and wind down a bit before party guests arrive
Hand off your camera to your friend who agreed to take photos during the party
Mingle with guests, and run the activity and craft areas with your helpers
Keep an eye on the food and beverage tables to restock as needed
ONE WEEK AFTER THE BIRTHDAY PARTY
Write thank you notes for birthday gifts
Return all borrowed items
Write a few notes about what things went well and what can be improved for next year
Treat yourself to a mani/pedi to celebrate a job well done!
If you liked this birthday party checklist, you'll love these posts too:
How to Plan a Party: Awesome Birthday Bash
Party Planning: Birthday Party Themes
Thank You Note Wording Examples: Birthday Gift Thanks
Another excellent birthday party resource: freethankyounotes.com
Do you have a favorite birthday party planning tip? Please share it in the comment section.
PS: Thanks so much for stopping by!